Our Services
Accent Cleaning has been serving communities from South Naples to Estero for over 20 years. We can handle jobs of all sizes and customize our services to each of our client's particular interests, as everyone and every property is different.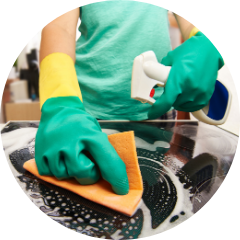 Residential Cleaning
Our residential cleaning services are tailored to meet your specific needs and expectations. Light, regular and deep cleaning services available, each with a unique process and checklist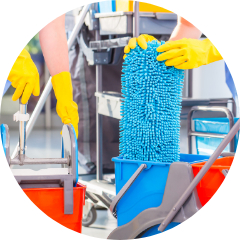 Commercial Cleaning
Our commercial cleaning services can manage your organization's janitorial needs including cleanings for offices, retail shops, clinics and common community areas of all sizes.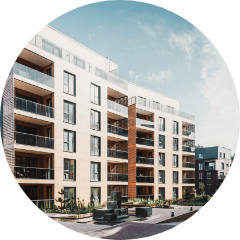 Condominium Cleaning
We'll work with you to come up with a Condominium cleaning plan and our seasoned professionals will bring the shine and sparkle to every inch of your unit.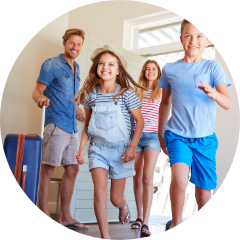 Rental Turnover Cleaning
We are experienced in getting a home turned over for incoming guests as efficiently as possible. From laundry and house set up to full interior and exterior cleaning, you can count on us to have your home "rental ready".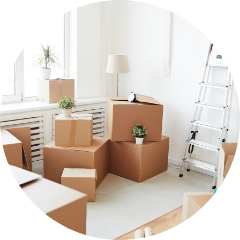 Move In / Move Out Cleaning
Moving is stressful enough, so let us get your apartment back to its former luster, so you can get that security deposit back in full. And when you move into your new apartment or house, we can help throughly clean that too.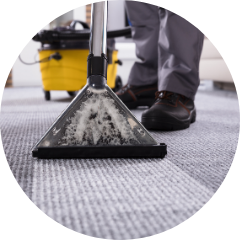 Carpet Cleaning
Our Cleaning Professionals will always vacuum all rugs and carpets in your home. Per request, we can also utilize our professional carpet cleaning machines to provide a deeper clean to area rugs and carpets.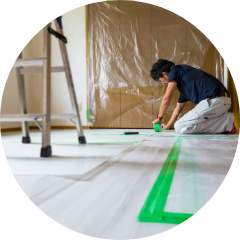 Renovation Clean Up
Anyone who has done a renovation project knows the mess that comes with it. Don't let your hard work get overshadowed by the dust, dirt and other debris in the house.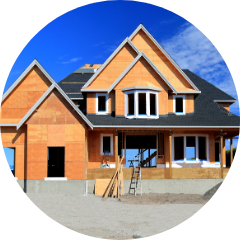 New Construction Clean Up
A post construction cleaning ensures your newly built house is clean from top to bottom after all the the heavy work has been completed. We'll ensure the home is dust free and presentable.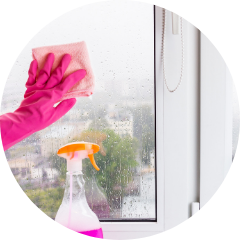 Window Cleaning
From cleaning both the inside and outside of your windows, to cleaning the tracks, screens, hard water deposits and dirt, we'll make sure your windows are streak free and shiny.
Accent Outdoor
Being in Southwest Florida, an outdoor living area such as a patio or lanai can add significant entertainment space to your home. However, this is only true if you keep your patio clean and attractive. A dirty, grimy, algae and spiderweb coated patio is hardly inviting for private relaxation or for entertaining. Our team of trained professionals will restore your patio and make the space fully functional again, for you and your loved ones to enjoy! Schedule us on a perpetual basis, and you'll never again have to think "Is it clean out there?"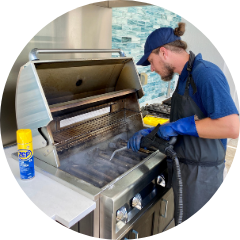 Grill Cleaning
Using a drill brush along with our high-pressure steam cleaner, we remove built up grease and leave your outdoor grill shining like new!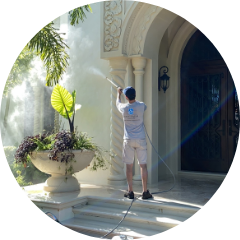 Pressure Washing
Using commercial grade equipment, make the exterior of your house, driveway, pool deck and lanai look like new.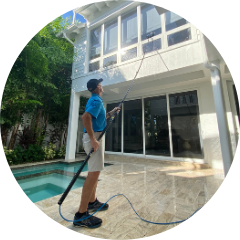 Window & Slider Washing
Utilizing a purified water fed pole to scrub and clean exterior glass windows and sliders leaving the glass perfectly clear.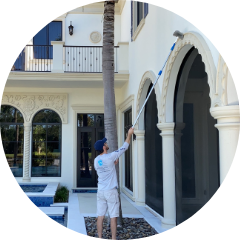 De-Bugging
Using a bug ball to remove all cobwebs and debris from the perimeter of the home and lanai.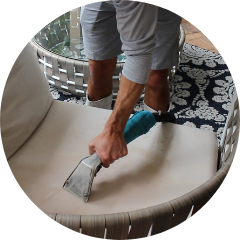 Upholstery Cleaning
Utilizing a commercial heated upholstery cleaner to effectively remove dust, dirt and most stains.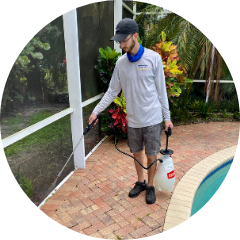 Mildew Removal
Using an all-natural algae inhibitor to rid your pool deck and lanai of mildew and weeds.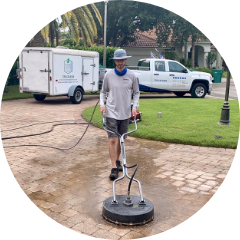 Driveway Cleaning
Using a Pressure Surface disc to thoroughly clean tile, brick, concrete, and many other surfaces of deeply engrained mold, dirt and some other stains.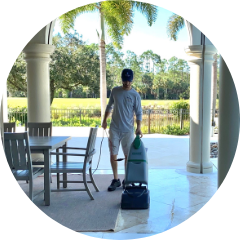 Floor Cleaning
Utilizing an all-in-one floor cleaner to provide a deep clean using roller brushes to scrub and then a vacuum extraction pump to remove the liquid from the surface.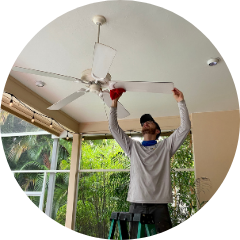 Ceiling Fan Cleaning
Reaching those high-up outdoor ceiling fans and light fixtures is always a challenge, yet dust and grime will accumulate on the blades quickly if it's not kept up with.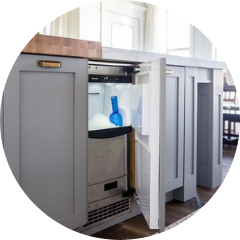 Undercounter Ice Maker Cleaning
Regularly cleaning your under-counter ice maker using food-safe cleaning products will ensure it's making sparkling odor-free ice.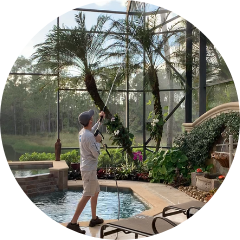 Lanai Cleaning
Don't let dirt and mildew on your pool cage dull your view. Ensure your lanai is looking it's absolute best so you can entertain outdoors.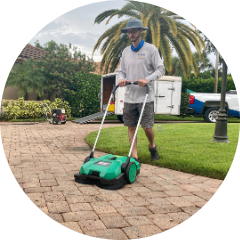 Outdoor Sweeping
Our commercial sweeper works great for picking up dirt, sand and and other small debris around your pool deck and other outdoor hard surfaces.
Refrigerator Interior
Blinds
Sliding Glass Doors
Balcony/ Deck Cleaning
Bed Linens
Laundry Service
Dishes
Baseboards
Water Plants
Shower Doors
Oven Interior
Stove Tops
Bathtubs/Showers
Microwave Interior
Behind Wall Units
Walls Spot Cleaning
Ceiling Fans
Trim and Door Frames
Light Switches
Garage Organizing
WE OFFER GIFT CERTIFICATES!
Gift certificates are a great way to celebrate an accomplishment, say "thank you" or to commemorate a special day! When you give someone an Accent Cleaning Service gift certificate, you aren't just giving a clean house. You are also giving someone time – time to rest, time to relax, time to enjoy yourself.
Give us a call at (239) 434-8568 and our team will be happy to set up a gift certificate on your behalf! To redeem, the recipient will simply have to call us, mention their certificate number and schedule their desired cleaning date.